Last night I attended my third San Diego Midnight Madness bike ride. Because people want to know where the pumps came from, here's the story of the first Midnight Madness I attended. Enjoy!



Midnight Madness, San Diego

18 Aug 2007
"So, are you going to Midnight Madness?" my friend Lauren asks me.

"What's Midnight Madness?" I ask.

"It's this bike ride in downtown San Diego that starts at midnight and goes for like, 20 miles, and people dress up in costumes and there's a lot of general silliness."

"Cool. I'm in. When?"


As I think about what kind of cool costume I could wear, the days tick down to Saturday. Thursday afternoon on a group ride, I tell one of the girls about Midnight Madness, comment that I don't have a costume, and admit that I might just have to go in bike clothes. But, as I think about it, I realize that I go to the "office" (the bike shop where I work) quite often in bike clothes. So, it would only be fitting if I go to the bike ride in office clothes. And the little wheels inside my head start turning...


That night I come home and enlist the help of my husband, who is only too eager to pull out the power tools.

I sacrifice a pair of old pumps for the ride, and take the seam ripper to the skirt portion of an old business suit. Totally worth it.

Although I try to run the Time cleats and pedals that I'm used to, the SPD's with the adjustable spring tension are easier to get out of.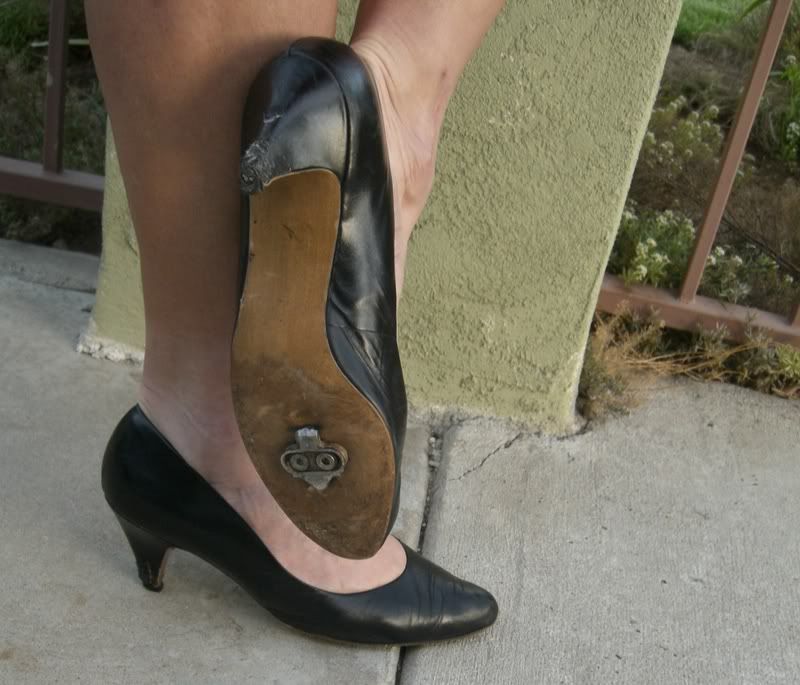 Kranked on his fixie with a mask that serves the dual purpose of restricting air supply and limiting one's field of vision. Ideal for a 20-mile night ride.

In the pic below, Jon tries to pet his furry friend. DHS says he was "petted" four or five times, and had no idea who in the crowd had done it.

Just before the ride, DHS, Kranked, and I get on our bikes and go to the Gas Lamp district of downtown San Diego in search of food. Of course there are lines to get into everywhere. We finally decide to cut our losses and go to Hooters. The guys want food; I'll settle for French fries.

After a quick meal and minimal libation (because it is so slow trying to get a pitcher of beer; you'd think guys go to Hooters just to, like, hang out or something), we head back to the venue. I don't want to miss the costume contest. As I understand, no one has done this ride in pumps before.
I'm hopeful I'll place in the contest, which is completely unrealistic. I have never seen what people do to decorate their bikes and themselves, and when I get there I'm stunned.

The winning entry is actually a functional bicycle built for six in a Hawaiian theme, with people in grass skirts, a built-in cooler in the middle, and a bubble machine. Yep, they did more prep than me.

Once back at the venue, it occurs to us that we have only another 20 minutes before the ride begins and we're all sober. Time to remedy that situation. With no time to spare, we hop on our bikes and head out into the dark. We find a package store a few miles away, grab the necessary supplies, and dash back to the staging area, where we have about 5 minutes before the gun goes off.

They count down the start time, and riders take off. It's a really slow start with so many people trying to squeeze through the entrance. Unfortunately they are not letting us run traffic lights, so groups of people get separated.

The first light we come to, I call out, "OK, everybodeeeeee... Trackstand!" Just then this guy to my right falls over clipped in. Ooops.


The general mood is fun and playful. People chat with those around them, making jokes about costumes, and laughing in delight at the creativity around them. We're all feeling just a bit mischievous; after all, it's after midnight, we're wearing silly costumes and riding our bikes in the middle of Pacific Highway. I mean, do the adults out there know we're doing this? The puckish mood of the evening grabs onto DHS right as a rickshaw rolls past us. It's just too much of a temptation to pass up...

More interesting people...



Mostly it was fun talking to people on the ride and just enjoying being out amongst the craziness, and being a part of the craziness.

The looks on people faces when they saw me in a business suit was pretty good, but seeing the look when they realized I was clipped in with the pumps was priceless! And while it was really rad to do a 20-mile ride in SPD pumps, by about mile 18, I was feeling it.


"Aw, man, these have got to be the WORST cycling shoes I have ever worn!" I exclaim to no one in particular.

"Hmmm, whatcha got?" some guy asks me.
"Prada!" I answer, and clip out for him to see the SPD on the bottom of the pump.
He nearly fell over.
It was a great time.

Thanks Lauren, for convincing me to go, and thanks DHS and Kranked for being great riding buddies. :)